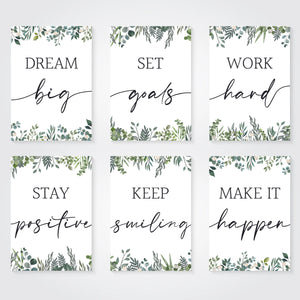 Perfect addition to Study Room, Bedroom, Office or Any Room that will act as Daily Inspiration & Motivation to Stay Positive, Set Goals & Work Hard Towards Fulfilling Dreams. ✨
Everything that we see & observe on a daily basis shapes our thought process and attitude.
These Set of 6 Posters (Unframed) will be an Ideal gift 🎁 for any special occasion.


Product Details:
Each Print Size: A/4 (8.27 x 11.7 inches)
High resolution color prints
Unframed Poster without adhesive tape
Free Shipping
Proudly Made in India ❤️
Your order will be shipped in 3-4 business days.


Order Now!
Happy to Help You: 
hello@mykidswall.in
+91 79772 04962